I still vividly recall the scene on Sept. 4, 2002 at the Oakland Coliseum. The A's had preposterously squandered an early 11-0 lead over the Royals. Suddenly tied, 11-11, after a two-out, ninth-inning RBI single from Luis Alicea, Oakland found itself on the precipice of either euphoric history-making heroics or soul-crushing disappointment. Coming off the bench in the bottom of the ninth inning to pinch-hit for Eric Byrnes, journeyman first baseman/on-base-machine Scott Hatteberg lifted the A's to a milestone with a walk-off solo homer against the Royals' Jason Grimsley. A gigantic "20" banner unfurled atop the Mt. Davis luxury suites in center field. Everybody celebrated like it was a postseason victory. The entire game felt fake, almost like a Hollywood send-up of extreme fairytale baseball movie circumstances that could never happen in real life.
The blast propelled the A's to their 20th consecutive victory, a feat confirmed over the radio waves by the A's great play-by-play announcer Bill King. At the time, it set an American League record, besting the 1906 Chicago White Sox and the 1947 New York Yankees, and was only eclipsed recently by the 2017 Cleveland Indians, who won 22 in a row.
From our seats in the right-field corner, I, my dad, and several others erupted in what could best be referred to as chaotic bedlam, a celebratory sigh of relief after a wildly tense few hours. I say "our seats" by name only, as we were standing in a stressed-out huddle for much of the evening.
To this day, it remains the most exciting and memorable baseball moment I've witnessed in person. Because I was in the building to experience it live, it was – and still is – especially bizarre to watch the 2011 film Moneyball and see Chris Pratt, at that point just "Andy from Parks and Recreation" but later the anchor of the Guardians of the Galaxy films and a superstar, play out the scene as Hatteberg, a player who joined that 2002 A's squad and wound up securing their place in the history books.
That's my memory turned into Hollywood movie magic, probably the only time I'll ever be able to say that.
When news broke that Moneyball: The Art of Winning an Unfair Game, the 2003 Michael Lewis book that went deep into the team psychology and economics of Oakland's front office and its disruptive means of fielding a competitive baseball team with a limited payroll, would be turned into a movie, my interest was tempered by confusion.
Sure, those A's shocked the world in 2000 by winning the American League West and making it back to October the following year (that time as a Wild Card team looking up at the impossible 116-win Mariners). But neither club won the World Series. Neither did the '02 team, which fell short once again in a five-game ALDS upset at the hands of the inferior Minnesota Twins, a loss Oakland would avenge in 2006 with a Division Series sweep before being unceremoniously swept out of the ALCS by the Tigers.
How could this story, one that doesn't end with the team holding up the World Series trophy in triumph as the screen freezes before the credits scroll, work as a movie?
The answer lies in Hatteberg's blast, which serves as the emotional apex of the film's depiction of that team and its unbelievable, storybook summer. Director Bennett Miller and screenwriters Aaron Sorkin and Steven Zaillian build to that moment with style and drama, making the story about a team that didn't win it all in the end as compelling as it possibly could have been.
"I dunno, man. The movie barely even mentioned the Big Three! That Moneyball team had a lot more going on besides just Hatteberg and Justice." pic.twitter.com/D3WWDTUZ0b

— Adrian Garro (@adriangarro) June 8, 2021
There's just one major problem with it, an issue that's stuck in my mind like a baseball card in a bicycle spoke since the film's debut: it completely ignores several key players on that team, players without whom the team wouldn't have come close to a winning streak like that, much less another postseason appearance. I'm talking about third baseman Eric Chavez, shortstop Miguel Tejada and pitchers Tim Hudson, Barry Zito, and Mark Mulder, otherwise known as "The Big Three." 
The film plays up some of the New School vs. Old School elements of how the A's of that era were run, with Brad Pitt's Billy Beane clashing with the A's talent scouts when debating how to replace slugger Jason Giambi, outfielder Johnny Damon and closer Jason Isringhausen – culminating in an expletive-filled hallway shouting match between Beane and scouting director Grady Fuson. 
There was some truth to the conceptual disagreement between Beane and the scouts back in those days, but you can't talk about the 2002 A's without emphasizing the importance Fuson had on the team. He was a key figure behind the A's drafting and developing Chavez, Hudson, Mulder, and Zito – players that don't fit the "scrappy underdog" narrative of the film, and thus aren't much of a part of it at all.
The movie would have you believe the 2002 A's were just an "island of misfit toys," as Jonah Hill's Peter Brand famously says, and little more, emphasizing the presence of Hatteberg and Yankees castaway David Justice (played by a great Stephen Bishop) on the roster. It's worth pointing out, by the way, that "Peter Brand" is a fictionalized version of Paul DePodesta, Beane's front-office assistant who was uncomfortable both with the Moneyball book and the script's depiction of him, resulting in the John Dowd-esque character seen in the film (which earned Hill a Best Supporting Actor nomination and a GIF that endures to this day).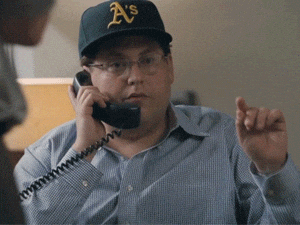 And yet, I've never been able to shake the way the film treats Chavez (.288/.338/.540 with 32 homers, 114 RBIs, and a 6.1 WAR in a monster 2001 campaign, relegated in the film to a passing reference from Beane in the locker room), Hudson (18-9 with a 3.37 ERA and a sixth-place finish in Cy Young voting in '01 after an even better '00), Zito (17-8, 3.49 ERA in '01 and on the cusp of the 2002 Cy Young Award) and Mulder (21-8, 3.45 ERA and a second-place finish in Cy Young voting). Hudson gets the most time on screen as he was the pitcher on the mound in the epic 20th game of the streak, but Zito and Mulder are merely seen playing cards with teammates and nodding silently as Beane walks through the clubhouse barking directions at his players.
In case you're unfamiliar, those aforementioned stars were REALLY GOOD. Take Zito's knee-buckling, awe-inspiring curve, for example.
blessing your timeline with some Zeets magic https://t.co/oTb35cwiQ3

— Adrian Garro (@adriangarro) December 28, 2021
Or Chavez becoming the first player to hit for the cycle at the Coliseum, which he did against future Hall of Famer Mike Mussina in 2000:
He also did things like this on the regular:
As for Tejada, he was the team's emotional leader, a budding superstar about to win the AL MVP Award in 2002, and the player responsible for walk-off hits in two of the final three games of "The Streak."
In Game 18, he blasted a mammoth homer against Eddie Guardado to seal it:
A day later, there he was again, with Grimsley on the wrong end of another historic moment in Oakland:
In Moneyball, Tejada (played by former MLB star Royce Clayton) boots a grounder in the 20th game of the streak sequence and is the player who greets David Justice (played by Stephen Bishop) with the "welcome to Oakland, DJ!" joke about having to pay a dollar for soda in the clubhouse soda machine. (That segment isn't true, of course, as the San Francisco Chronicle's Susan Slusser pointed out).
That's hardly a cinematic treatment befitting a player as important as Tejada was to the club at the time. 
Among the other baseball-level embellishments in the movie is the weight given to the departure of Johnny Damon from the 2001 A's. Acquired in a three-team trade from the Royals in a deal that also included (prepare yourself for some flashbacks) Mark Ellis, Ben Grieve, Ángel Berroa, and Cory Lidle, Damon wasn't his usual spark plug self in his one season in Oakland, his first time playing for a team not named the Royals.
He hit .256/.324/.363 in 2001 with the A's, the lowest batting average of any full season in his career. His WAR was 2.4, a far cry from the 6.2 he posted in his final year in KC in 2000. All this to say: losing Damon probably wasn't as devastating a loss for the 2002 A's as the movie implied it to be.
Jeremy Giambi, Jason's younger brother, is portrayed in the film with gusto by Nick Porrazzo as a newcomer and a clubhouse problem, a distraction from on-field success that prompts Pitt's Beane to take a bat to the clubhouse stereo after a loss. This depiction stems from a few mild real-life examples of Giambi drawing headlines for the wrong reasons, but in reality, he didn't join the 2002 A's from outside the organization; he had been there since 2000 and was a consistent performer for the 2001 club alongside his brother.
He was also an unwilling participant in a certain "Jeter Flip" moment from the 2001 postseason, which I also witnessed in person but do not retain similar warm memories about. 
The film shows Beane quickly tiring of Giambi's antics and trading him to the Phillies for John Mabry – something that did actually happen that summer – but glosses over the impact Mabry had upon his arrival: A .275/.322/.523 slash line in 89 games with 11 homers and 40 RBIs as a utility player, even picking up some big hits in "The Streak."
Looking back, it's hard to imagine the 20-game win streak happening had Mabry not been around, so he probably could have used a bit more of a presence (or mention) in the movie — though he does get a highlight right at the start of "The Streak" montage sequence after some key hits in Detroit halfway into the streak:
Despite all of this nitpicky complaining, I do understand these alterations of what really happened. You can't include every roster nuance and give equal screen time to each player who participated in that season in order to tell a story like this and — most importantly — retain an audience's interest. At least an audience of regular people, not baseball nerds like me. 
To Moneyball's credit, that's where the assembled cast really shines. From Pitt's quiet intensity as Beane to Hill's awkward understated stats guy genius and Philip Seymour Hoffman's brooding depiction of manager Art Howe (which Howe took extreme issue with, similarly to DePodesta), each delivers a strong performance that no doubt helped the film attract Oscar buzz and box-office success. 
I'll refrain from pounding out more paragraphs whining about the fact that "The Show," the song Beane's daughter Casey (played by Kerris Dorsey) plays on acoustic guitar, is actually a real song by Australian singer Lenka that wasn't released until 2008, six years after the setting of Moneyball. That's some Marty McFly Flux Capacitor time-travel nonsense, and I refuse to dive into that rabbit hole. Catchy song, though. 
Despite the creative liberties taken by the movie, some key elements of the narratives around that era of A's baseball were right on the money. Beane sitting alone in a dark, ominous Coliseum, begrudgingly listening to the final out of the A's 2001 Division Series defeat to the Yankees was reminiscent of the angst A's fans felt about that same October flameout, the inability of those clubs to capitalize on those exciting and unexpected, lightning-in-a-bottle summers. 
Spotted myself in the top right corner of this scene in #Moneyball. Much better seat than I had at the REAL game ;) pic.twitter.com/EsxUIAEx

— Adrian Garro (@adriangarro) January 14, 2012
Also important to the storytelling of the Moneyball era is the criticism it drew, heard in the film by noted "old school" baseball purist Joe Morgan's skeptical monologue accompanying the scene in which the 2002 season ends abruptly in Game 5 of the Division Series to the underdog Twins. These A's "revolutionized the game," as they say, only to have the Red Sox popularize it with the backing of significant money and win multiple World Series in subsequent seasons.
There was also plenty of truth to the idea of those A's having some unique personalities. At an A's radio station event around this time, I listened to sidearm right-handed reliever Chad Bradford (played by Casey Bond in the film) discuss his experience growing up on a cricket farm in Mississippi. At these same radio events, it was common to also witness Zito bust out his acoustic guitar to play some John Mayer or Jack Johnson songs (a preview of his current post-pitching career as a musician). There were plenty of colorful characters on that team, for sure. 
In closing, it's important to make clear that I think Moneyball is an excellent baseball film — probably better than it deserved to be, given the abrupt manner in which the miracle season ended for that surprising 103-win ballclub that put the league on notice with its quirky (and, to some, controversial) way of doing business. And while the baseball-obsessor critiques I do have of its attention to detail haunt me, that's more of a "me problem" than anything else. I'm glad the film was made, despite these admittedly obnoxious objections.
I rewatch the film each offseason as a rite of nostalgia and a means of injecting baseball into the cold winter months as I impatiently await the start of Spring Training and another cycle of summer excitement and the mystery of which team will wind up on top.
Beane and his A's, of course, are still trying to win that final game of the season, two decades later. Baseball's a heartbreaker like that, and yet we come back for more each time. In other words: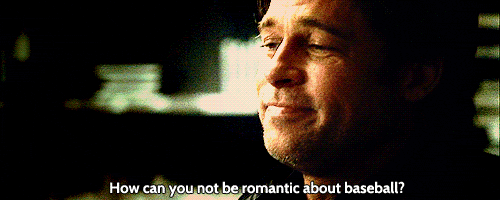 Photo by Alexander Schimmeck/Unsplash | Adapted by Ethan Kaplan (@DJFreddie10 on Twitter and @EthanMKaplanImages on Instagram)