In his first two seasons as a regular member of the Marlins rotation in 2019 and 2020, Sandy Alcantara proved himself to be a very productive starting pitcher in the majors. He posted a very good 3.72 ERA and 116 ERA+ over 39 combined starts, pitched a scoreless inning in the 2019 All-Star Game, and took the mound as the starter for Miami's first playoff game in 17 years last October, an impressive track record for someone who just turned 25 years old last year.
Alcántara's first three starts of the 2021 season, however, show that he might be taking the next step forward right in front of our eyes.
In the first few weeks of this young campaign, the Marlins ace got through six scoreless innings on Opening Day against the defending AL champion Rays, tied a career-high in strikeouts with 10 in his next start against the Cardinals, and recorded another quality start in his latest outing against the Braves despite not looking as sharp as he did in his first two appearances.
All this has resulted in a very good 2.45 ERA to start the year, and even more encouragingly, it has also come with some very interesting changes that may signal some great things to come for Sandy.
Changing Things Up
The biggest thing that stands out when looking at Alcántara's first few starts this year is the emergence of his changeup as a legitimate weapon in his pitch arsenal. For most of his career prior to 2021, Alcántara never really featured his changeup very prominently, instead opting to use it mainly as one of two secondary offerings to lefties along with his slider.
Despite this, though, it always had some very intriguing characteristics to it that hinted at some unlocked potential. For starters, it was one of the harder thrown changeups in baseball in 2020, as its 90.1 miles per hour average velocity ranked eighth among all pitchers and fourth among starters, behind only Jacob deGrom, Dustin May, and Zack Wheeler.
Alcántara didn't sacrifice movement on the pitch to attain this high velocity, however, as his changeup also featured both above-average vertical drop and horizontal break. This combination of qualities made Alcántara's changeup very unique, but more often than not it was taking a backseat to the other pitches in his repertoire.
Fast forward to this season, though, and you'll see that Alcántara has made a concerted effort to focus on his changeup a lot more:
Alcántara Changeup Profile, 2021
| | Usage Rate | Average Velocity | Vertical Movement (in) | Horizontal Movement (in) |
| --- | --- | --- | --- | --- |
| 2020 | 10.30% | 90.1 | 29.7 | 16.4 |
| 2021 | 21.40% | 91.7 | 29.5 | 16.2 |
First off, Alcántara has more than doubled his changeup usage from where it was in 2020, going from 10.3 percent all the way up to 21.4 percent. He has also added more than a tick and a half to the already impressive velocity of the pitch (making it the 2nd fastest changeup in all of baseball so far) while not sacrificing much of the above-average movement that it already possessed.
How often he throws the changeup isn't the only thing Alcántara has focused on in regard to the pitch, though, as he has also changed up where he throws them as well: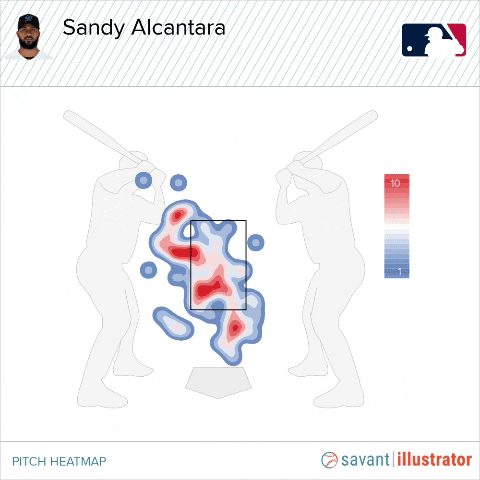 This GIF shows the heatmaps of Alcántara's changeup locations over the last 2 seasons, and the difference between them stands out pretty quickly. In 2020 (the first image in the GIF), Alcántara primarily focused on throwing his changeup in or right around the strike zone, while in 2021 he has lived outside of it a lot more often than not.
Given the qualities of the pitch mentioned earlier, it would make sense to assume that Alcántara made this change in order to greater utilize his changeup as a swing-and-miss getter, and through his first three starts of this season, he has achieved this and then some:
Alcántara Changeup Plate Discipline, 2021
| | Zone% | O-Swing% | SwStr% | K% |
| --- | --- | --- | --- | --- |
| 2020 | 48.6% | 30.6% | 18.6% | 37.5% |
| 2021 | 35.1% | 40.5% | 24.6% | 41.2% |
So to summarize, Alcántara has thrown more changeups out of the zone in 2021 than he has in previous years, and opposing hitters have responded to this change by chasing them more often than they have at any point in his young career.
When you take this and look at it in conjunction with the pretty significant increase in the number of changeups that he's thrown overall, and you start to see why Alcántara has seen big increases in both his overall strikeout percentage (from 22.7% to 28%) and CSW rate (from 25.8% to 29.2%). 
This change has been so important for Alcántara because it has been a very big factor behind his development as a strikeout pitcher. He has always had electric stuff, but the way he was using it prior to this season wasn't conducive to getting swings and misses as much as it should've been.
By making his changeup a greater priority, though, Alcántara has been able to diversify his arsenal in a way that he never has before. His four-seamer, sinker, slider, and changeup are all seeing at least a 21 percent usage rate so far, with each of them offering very distinct looks that play off of each other pretty well.
His willingness to throw all of them means that hitters cannot key in on any one of them, either, and as a result, his ability to miss bats has progressed a great deal.
Future Outlook
It's still very early in the year, but the way Alcántara's first three starts have played out has definitely brought about some excitement for the rest of his 2021 season. He looks to have finally found the key to unlocking the strikeout potential that always existed with his outstanding stuff, and his peripheral stats (which have always seen him in a somewhat unfavorable light) point to his performance being pretty sustainable moving forward.
In fact, there appear to be some places of improvement present for Alcántara, most notably around his trademark power sinker. That pitch had easily been his best offering in both 2019 and 2020, but a more than 100 point difference in the wOBA and xwOBA against it this year has almost negated the increases in both velocity (up to 97.3 miles per hour on average, second-best among all starters) and vertical movement that it has seen.
If this discrepancy starts to correct itself and Alcántara's luck when throwing it gets a little better, he might be even more dangerous than what we've already seen.
Alcántara still needs to prove that the version of him we have seen so far is who he really is over an extended period of time, but the arrow is without a doubt pointing up for him. If you haven't already, it may be the last call to jump on the Sandy bandwagon, as he very well could be on his way to breaking into the upper echelon of starters in the league.
Photo by Kyle Ross/Icon Sportswire | Adapted by Aaron Polcare