This one hits a bit differently! Fans of our previously daily nastiest pitches articles will be familiar with the content in this new weekly article that covers all the need-to-know highlights of baseball from the past week in GIF form. From cool moments, the nastiest pitches, and the moments you'd want to forget, our GIFs of the week are sure to entertain.
Defensive Wizardry
Duran's Over the Shoulder Grab
The Sox swept the Yankees last weekend and capped it off with a rare Sunday doubleheader. In the nightcap, Jarren Duran made a fantastic over-the-shoulder catch at the wall, while the broadcast booth was mic'd up with fellow outfielder Rob Refsnyder.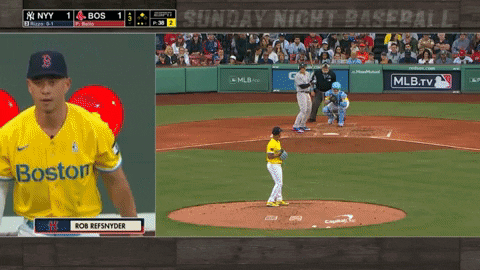 Carroll Stealing a Hit
Corbin Carroll is walking away with Rookie of the Year at this point, largely due to what he's doing with the bat. But don't sleep on his glove. Carroll made a fantastic sliding play on Wednesday afternoon covering 103 ft to make the catch and rob Rowdy Tellez of a base hit. Statcast labeled this as a 25% catch probability and the speedy outfielder reached a speed of 30.3 ft/second.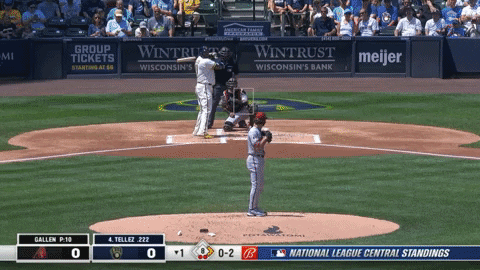 Nastiest Pitches
Gavin Williams' Curveball
Gavin Williams' debut didn't exactly go to plan as the Guardians' prospect allowed four runs over five and two-thirds innings. The Cleveland bats supported him, though, with a couple of late runs to eke out the win. While Williams didn't dominate in his first start, it's easy to see the hype with breaking balls like this.
Shohei Ohtani's Sweeper
Shohei Ohtani started against the Dodgers on Wednesday and continued to do Shohei Ohtani things. He struck out 12 over seven innings and put away Miguel Vargas on a great sweeper.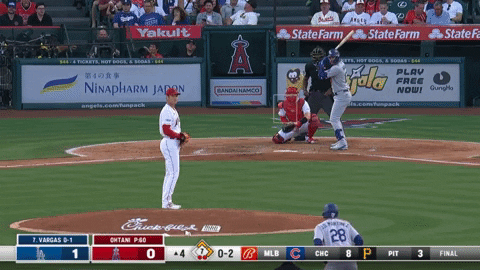 Eury Pérez's Changeup
Eury Pérez had the best start of his young career on Tuesday when the Marlins' rookie dominated the hard-hitting Blue Jays. He struck out a career-high nine over six shutout innings, needing only 80 pitches in the process. While it's unfortunate that he'll likely be shut down early in 2023, we should see him dominating on the mound for Miami for years to come.
Pablo López's Curveball
Pablo López has had an up-and-down campaign in 2023 but his K% this year is currently the highest of his career. He struck out nine on Monday for the second straight start and showed off a filthy curve to Masataka Yoshida.
Braxton Garrett's Slider
Outside of his 11-run implosion a month ago, Braxton Garrett has pitched very well this year. His success continued Thursday as the lefty struck out a season-high 13 Pirates. Of the 13, six came on the slider as the pitch garnered seven whiffs on its own, en route to an overall CSW of 42%. He got Jack Suwinski here on the slider, one of Suwinski's four punchouts on the day.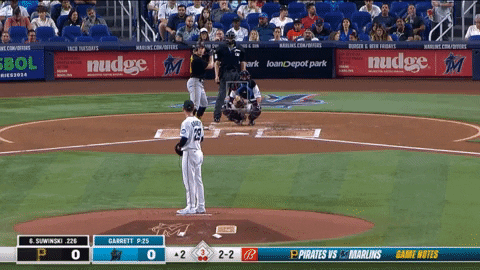 Top Long Balls
Dalbec off the Train
We're going down to Triple-A for this home run to see Bobby Dalbec hit a massive home run off a moving train. The young slugger has been in and out of Boston the last few years but has been tearing it up at Worcester this season.
Yaz Walks it Off
The San Francisco Giants have been playing great baseball of late. So much so that they've overtaken the Dodgers for second place in the NL West. They found themselves in trouble on Monday night, but managed to score a pair in the ninth to force extras where Mike Yastrzemski launched a three-run home run into McCovey Cove to walk it off.
Oh, No!
Wembanyama's Wild Pitch
Victor Wembanyama was in New York this week for Thursday's NBA draft. A few days before, he made a stop at Yankee Stadium to throw out the first pitch. While it's not the worst first pitch we've ever seen, it wasn't great. Luckily, it appears that he has a pretty promising basketball career ahead of him.
Don't Throw it Back!
In game one between Boston and New York last Sunday, one lucky fan was gifted a foul ball that he immediately threw back. His older brother seemed to disagree with that decision and let him know how he felt. Fortunately, NESN and the Red Sox corrected the error a couple of innings later when the family was given a replacement ball along with a bonus jersey.
A Purpose Pitch by Cole
Gerrit Cole started Tuesday's game against the visiting Mariners and apparently wasn't impressed by Jose Caballero's manipulation of the pitch clock. After calling a timeout to disrupt Cole's rhythm, the Yankee let a pitch go way high and wide to note his displeasure. He would strike out the Mariners' second baseman a few pitches later and gave him a finger wag as he walked off the mound.
Featured Image by Kurt Wasemiller.